Yes, I have lots to share today be sure you read my WHOLE blog today! Not much chit chat, just info and posting! :-) Let's get started!
First, let me start of by telling you, I am one of the designers participating in the Scrap Kit Challenge, well, if the other designer's kits are anything like mine, you are going to LOVE this mega-kit. It's called
FALLING IN LOVE
and I am falling in love with what I have seen! Part 1 [or the papers] was to be up two weeks ago! I know, I am running behind. Here's my preview of my papers, and if you like what you see, you can grab them by clicking on the preview below. If you want the other designer's kits you will need to visit the
Facebook
page for their download links. :-)
In a couple of days the 2nd part of this kit will be available. Things like the frames, fasteners, pins, etc. Here's a preview of what I have for that (as always NOT ALL pieces are shown, this just gives you an idea.)
And after the 17th of September, I think it's the 17th...lol we will be sharing the 3rd part. This is a preview of mine. (I know, it's not suppose to be ready yet! LOL) Now I just need to get busy and make some QP's for the 4th and final share.
It's not too late, come on over and join in the fun! Help us make this the BIGGEST and BEST mega kit ever! I hope to see you there! Start FALLING IN LOVE! *wink*
Remember in my last post, I told you about
Crafty Scraps
having a big, HUGE, mega kit challenge going on, called "Hide-Find-Design"? Remember?
Well, it's still going on, and you are NOT too late to get in on this challenge, and let me tell you, the mega kit you will win is HUGE and AWESOME! If you take the challenge you will win this!
Hurry on over to
Crafty Scraps blog
to find our more about it.
Also, Crafty Scraps has a GREAT deal going on in her store right now, if you spend $5 or more, you will get this Gorgeous Kit for FREE! That's right FREE! It's called TURKEY FEATHERS.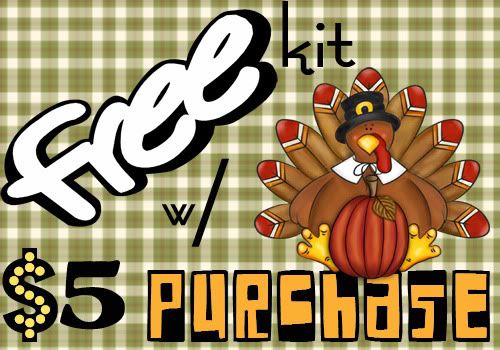 Isn't this a great kit? Hurry over to the store and pick up your copy today! :-)
There is so much more going on at
Michelle's blog
too! Be sure to visit her and get in on the
HFD CHALLENGE
and any of the other challenges that catch your eye...you will be glad you did!
PSSST, this is one of the reasons I have been so busy! LOL "HAVING FUN!"
Moving along...lol If you remember, I told you I was also in a challenge over at
Digital Scrapbooking Studio
. They have a
Recipe Card Challenge
going on there each month. Here's a preview of the card I made this month, I really wanted to make more, but unexpected things came up. :-(
If you have not participated in this challenge before you really should. I have gotten a lot of awesome recipes from here and some I have been looking for, for years! If this is your first time, here's what you do, purchase your 1st kit [for the challenge] from the store (they are very cheep for getting you started, I think mine was like 3.00). The you make your recipe card with the kit [you purchased] provided for that month and every month after that, the challenge kits are FREE! Yes, FREE! Maurine will send you a code for you to get the kit for free at the beginning of each month, but only if you shared at least one card with the group. Go check it out for yourself! I am LOVING it! :-)
OK...on with more of the goodies...nope, I'm not finished yet! lol
I have a few more QP's I want to share with you. I made another recipe page for my Scrapbook cookbook. I used kits made by
Crafty Scraps
, For this particular page, I used the kit, "
Ginger Bake
" for my Lasagna Recipe.
HOMEMADE CLASSIC LASAGNA
Here's the Layout [LO] I made using this kit. I used photos from my brother, Bobby and his wife, Viva's 50th wedding anniversary party on the 18th of August. Their daughter, Teresa, had planned this for 3 yrs! It was awesome, I am told it lasted until after midnight! The had Karaoke and even Fire Works! I left to come back to Ohio sometime after 5:00. :-( If you would like the QP [without all of my personal stuff on it...lol] you can get it by clicking on my LO preview below.
I made another QP, this one is still in an 8x8 format, I will be redoing it in an 8x10 since that is how I scrap.
I used Crafty Scrap's kit Teach Me~Boy to make this page and of course I made a LO of my oldest grand daughter, Destiny. :-) Here's the preview of the kit, "Teach Me~Boy"
and here's a prevew of the QP I made
and if you want to download the 8x8 QP just click on Destiny's LO below.
I know she's my grand daughter, but isn't she cute!? I love my babies, can you tell? LOL
Don't forget to head on over to
Crafty Scraps
and the
Forum
and pick up a LOT of goodies! You will be glad you did...and here are a few previews of what's new in the store, too!
This is just the TIP of the ice-berg! Go check out her store, you will be so glad you did!
I think that's all I have for today, if I forgot anything, I'll try to get it next time I post. Take care, and God Bless you all, Be safe and enjoy your holiday, if you celebrate, that is. Happy Labor Day All! :-)
PSSST...my 42nd wedding anniversary is on Wednesday, the 5th. I never thought I would see the 5th year, much less the 42 yrs! LOL My hubby is a good man, or I would not be with him. *wink* I just hope he can say the same for me. LOL Just thought I would share that with you all. :-)
OH...and it's so late now, so I am NOT going to proof read this...I JUST hope I didn't make any mistakes. I hate when I do. So...if you find an error...PLEASE tell me. *hugs*