Hello everyone! How was your Christmas Holiday...busy like mine? lol It was a good Christmas. No complaints from me. My family was all here, and we had a nice dinner. I always ask that my children and grand children be here and it be a peaceful day...and it was. :-)
Did you get to snag from all of those wonderful Blog TRAINS? I'm telling you...my poor hard drive is probably thinking it did all the HOLIDAY 'eating' instead of me! LOL There are still a lot of them, I just didn't get to snag. :-( I hope you did! [wink]
I began working on todays kit before Christmas...then I got side tracked and did a few other things. I wanted to give thisone to you before this year was out, and I guess I made it. And not too soon I might add! lol
This kit is for your own PERSONAL USE only. I did use some of the tubes by
Jazzl
in this kit, too.
Be sure you read my TOU included in the kit. I've placed it on the right-side of my blog for your convenience, too.
If you would like to use any of my elements in your designs...please feel free to email me... I'm sure we can work something out. :-)
I want to thank you all so much for your wonderful comments you left me, as you downloaded my designs.
And because of your thoughtfulness, and kindness, I finished this kit today, just for you! :-) Keep saying HELLO and anything else you want...and I'll keep sharing. [wink]
Anyway, The kit I am sharing with you today, is a FULL kit and it's called '
WINTER BLUES
'. I just figured after Christmas and with all this snow we've had, we would probably all be feeling in that sort'a 'mood'. [rofl]
I'm soooo sure we are going to get some more of the white stuff before the season is over, right fellow Ohioans? lol
The weather has been really weird lately, it's been in the teens and then a day or two later, it would be in the low 60's!! Crazy weather! But hey, I'll take the 60's!!! lol
OK... enough about the weather....lol...
Here's the preview of the kit..
NOT ALL ITEMS ARE SHOWN
.
[There's 77 elements, 10 seamless tiles, 9 papers and 4 overlays].
I didn't make any PLAIN papers, as I knew you could do that. LOL I did include the color chart so you could make some yourself if you wanted to. :-)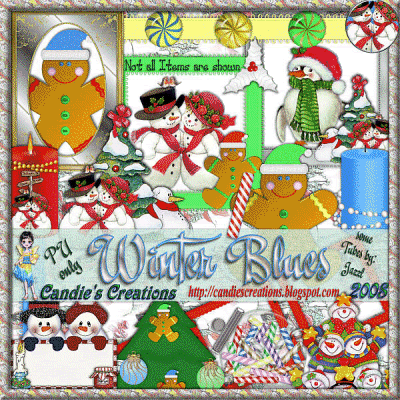 You can SNAG some of the elements
HERE
and the rest of the elements
HERE
Be sure to grab all of the papers
HERE
I hope you all had a wonderful Christmas holiday...and I am wishing you all a VERY SAFE and HAPPY NEW YEAR! I probably won't be blogging again before next weekend...or should I say... NEXT YEAR! LOL So...enjoy the rest of this year, and be safe. God Bless each and every one of you... I'll see you next week/year! LOL